Facebook after acquiring WhatsApp for $19 billion, aimed at enhancing user's privacy. The latest version of WhatsApp, which is not currently available at Google Play Store, but available at WhatsApp's official website includes major update. Which give users ability to manage who will be able to see their profile picture, status and last seen time.
Make sure you allowed installation from unknown sources you can enable this from  Settings > Security > Unknown Source. After you installed it, you can access this privacy option by going to Settings > Account >Privacy.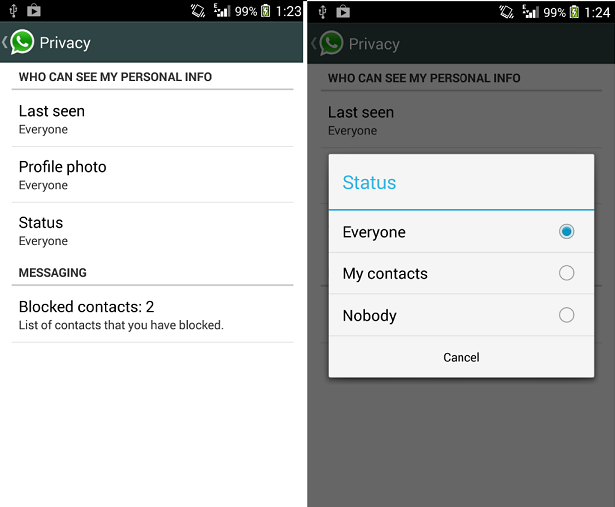 It has three options :
Everyone  ( Anyone who has your phone number and added you as contact can see it)
My Contacts ( Only contacts you have and they also have your phone number can see it)
NoBody ( It will be not be visible anyone except you)
After buying Instagram, Facebook tried to buy Snapchat, but Snapchat declined offer from Facebook. As WhatsApp also have huge number of photo shares (more than Facebook) and also it is more popular in regions where Facebook wants to become reachable, This may be reason behind Facebook-WhatsApp deal.
Although there are many rumors that WhatsApp will be totally changed and Facebook can integrate it with messenger, but WhatsApp confirmed in a "blog post" that nothing will be changed for users.