The pavilion of launching budget friendly tablet PC beginned with arrival of
Aakash Tablet PC
though it was another fake promise by Mr Kapil Sibal.Here I made a list of budget friendly capacitive tablet PCs.If you were going to buy Aakash Tablet or BSNL Penta Tablet,I will suggest you to increase your budget and grab a Tablet PC with at least capacitive touch.
1. Micromax FunBook
Micromax Recently launched a Tablet PC named Funbook which became very popular due to its brilliant configuration at affordable price.It has 1.2Ghz CORTEX A8 Processor, Dual mali 400 – 2D/2D Graphics Processor for ultimate multimedia experience.It has internal 4GB storage that's not bad enough,512MB RAM,screen resolution of 800*480,0.3 megapixel VGA camera and pre-installed with latest Android 4.o Ice Cream Sandwich.It has 2800mah battery which company claims to give talktime of 5 hours.It comes pre bundled with TATA DOCOMO photon 3G dongle with 3 months of data free( 1GB per month + 500rs activation charges extra ).You can
buy Micromax Funbook here for rs6499.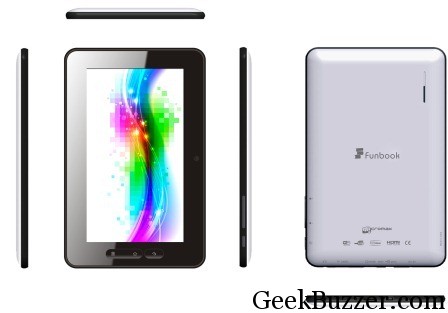 Verdict :
Even if the configuration is good but Micromax has provided only 2800 mah battery.We were not expecting this from a brand which is well-known mainly for its battery life.The tablet don't have bluetooth and also call functionality.This tablet does not support any other dongle other than Photon that's really very disappointing.If you insert any other dongle,It will not let you edit or change APN from its default APN for Photon as save button will be faded and unclickable.Data charges for photon are very high as compared to other networks.However if you have WiFi connection then only its prefered to buy otherwise you can extend your budget a little and grab HCL ME Tab U1.This tab is an exact replica of
2. HCL ME Tab U1
A very strong competitor of Funbook with its configuration almost similar.The device comes with Android's latest operating system 4.0 Ice Cream Sandwich with processor of 1 GHz Arm Cortex A8 ,512 MB RAM and internal 4GB storage.It has better 3600mah battery which is quite better than FunBook.This tablet supports most of USB dongles.It also have screen resolution of 800*480.You can buy this tablet at
official HCL Store at price of rs 7999
.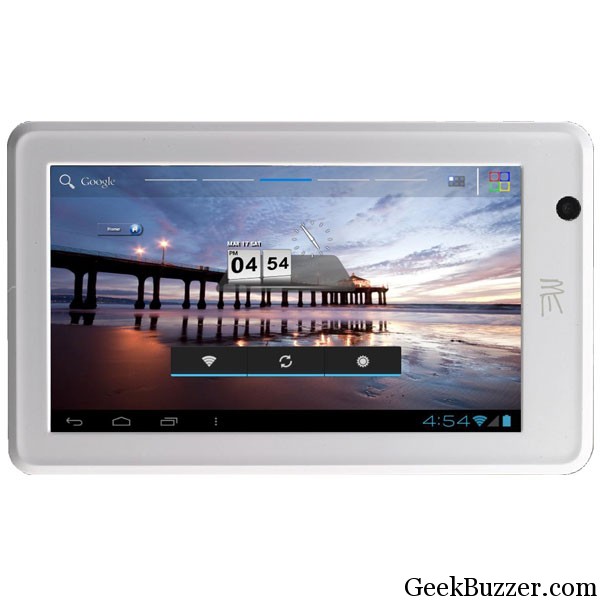 Verdict: With the price difference of 1.5 k you will get increase in battery life (3600 mah) and freedom to use any USB modem.However performance of this tablet is little lesser than funbook.Camera performance is also good.Instead of finding unlock of Funbook its better to get this tablet PC as this tablet PC will surely not make you feel like you are holding a cheap chinese tablet PC like FunBook.
3.Veedee D10
This is the tablet PC from where FunBook origins.Micromax debranded Veedee D10 and launched it as FunBook.One thing I am unable to understand that why Micromax has degraded the configuration ? Veedee has better 3800mah battery which utilize PMU power management knowledge and ability plus DVFS technology to improve the battery power.It has internal storage 8 gb and camera of 1.3 megapixels.The best thing is that it is compatible with most of USB modems.You can pre-book this tablet PC at rs 6490 from EBay,You can also apply 5% or 10% discount coupons if you have or you can Google it.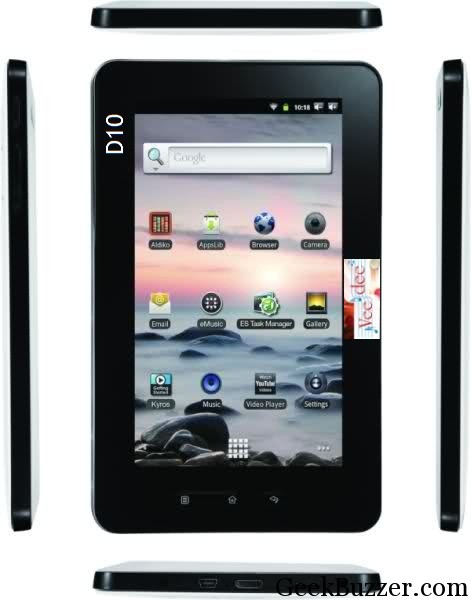 can you figure out any difference in appearance of both Micromax Funbook and Veedee except their respective logos ?
Verdict : If you want great value for money and performance then go for Veedee,Purchasing FunBook will be a stupid mistake.No doubt both Veedee or FunBook will make you feel that you are really having a 6k tablet because of its cheap hardware but If you are looking for brand but lesser performance then surely go for HCL ME Tab U1.May be some applications or games run slower on HCL ME Tab U1 but you will like to have it in your hands.Its smart and slick design flaunts.
So which Tablet PC you have decided to purchase ? Do you have any other alternative ? come on share  with us