Link building is very essential for increasing visibility of your blog and getting Backlinks.Normally most of bloggers ignore blog commenting assuming either it more time consuming or complicated.Well today i will show how to do in very less time and genuine way of blog commenting. There are two types of link building :
Automatic Link Building
Manual Link Building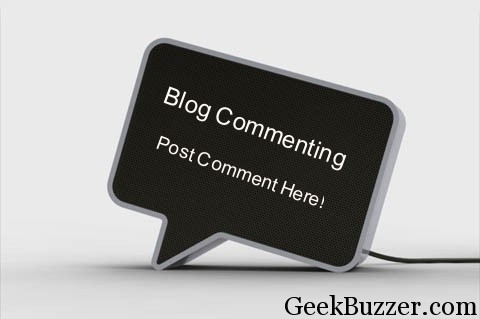 Automatic Link Building Process 
Requirements
:
Good Webhosting (If shared then recommended hostgator).
Self Hosted WordPress.
WPSBOX Plugin
May be some people call it blackhat SEO but i dont think so as everything is perfectly organised in this plugin.
First of install WPSBOX Plugin for WordPress
Add new Campaign and fill all the fields for eg: you can see here my campaign.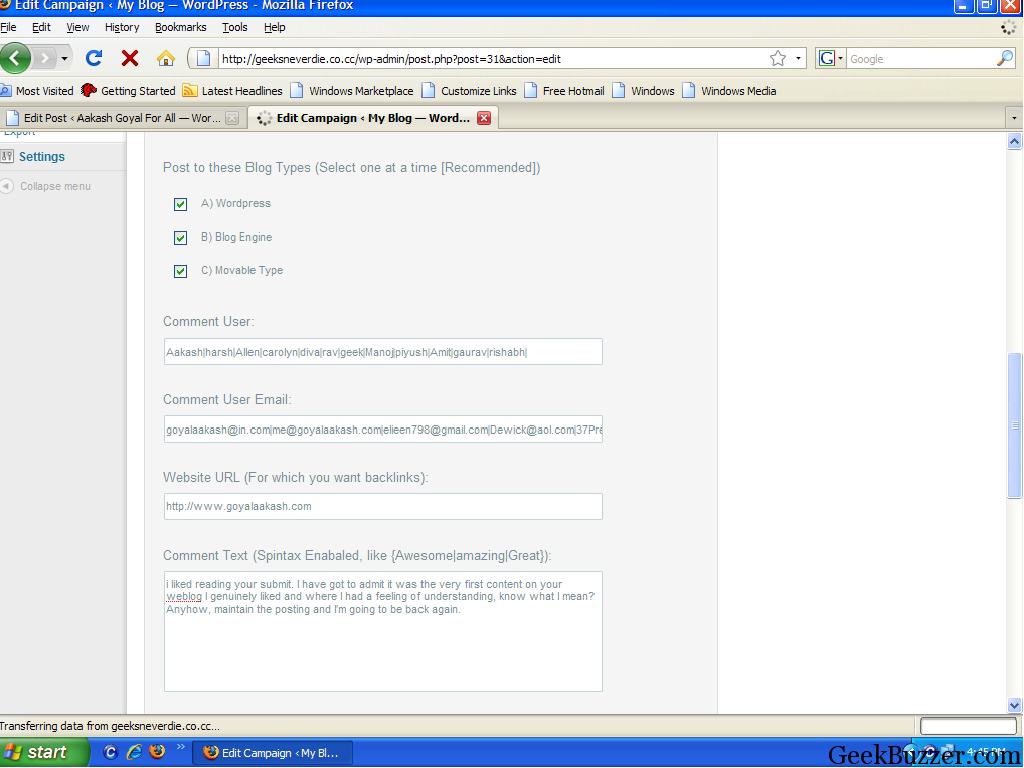 3. After that change the settings according to your requirement. 4.add command
php /home3/geekbuzz/public_html/wp-content/plugins/alb/cron.php
in Crone Jobs in Cpanel. 5.Enjoy automatic link building via automatic blog commenting.
Manual Link Building Process
This process don't have any special requirements.Just you need google search engine and nothing else.
To find .edu blogs for commenting type this and press enter.Replace Aakash with any of your keyword.
aakash site:.edu inurl:blog "post a comment" -"you must be logged in"
For .gov blogs
aakash site:.gov inurl:blog "post a comment" -"you must be logged in"
For Anchor text in comment blogs
aakash "Allowed HTML tags:"
For Angela's Backlinks
aakash "angelae8654"
For Commentluv Premium blogs
aakash "This blog uses premium CommentLuv"
for dofollow comments blog
http://www.google.com/search?q=aakash+%22Notify%20me%20of%20follow-up%20comments%3F%22+%22Submit%20the%20word%20you%20see%20below%3A%22
for expression engine forums
aakash "powered by expressionengine"
for hubpages
aakash site:hubpages.com "hot hubs"
for keywordluv blogs
aakash "Enter YourName@YourKeywords"
for livefyre blogs
aakash "get livefyre" "comment help" -"Comments have been disabled for this post"
for squidoo lenses
aakash "add to this list" site:squidoo.com
I know your next sentence.Are you to lazy like me that you can fill again and again name,email,website etc.Ok then i have a solution for this also.
There i a great software called Roboform which automatically fills all web forms for you for eg: Your commenting form.Please do not put same comment on all website and dont spam.Read the article and then put your comment.If you want great chances for approval then ask the questions in the comment related to that article even if you know the answer.
Well let me know was this article helpful for you or not? If yes then please consider it worth sharing.